Electrician Services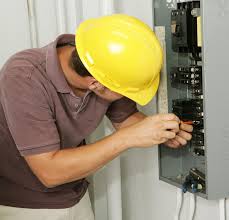 Believing that the customer is the most important part of our business, Connective Electric strives to provide exceptional electrician services with a level of personal attention you won't find anywhere else.
Electrical service is provided by our full staff of experienced professionals, trained to handle any job. Electrician services range from a simple one-hour service call, to comprehensive construction projects.
We offer the best electrician services in the South Florida area. With multiple offices in Miami-Dade, Broward, and Palm Beach Counties, we have resources available to meet your electrical service needs.
Premier Electrician Services in South Florida
At Connective Electric we have built our business on a reputation of delivering the highest quality work for each and every job we take on.
Our goal is for the customer to feel like they received the highest level of customer service no matter what job we're called in to do — whether a simple service call or long-term construction project.
From the construction site to the customer's home, our level of professionalism is unmatched. We want to meet your electrical service needs.
If you want the job to be done right, on time, and with a level of attention to detail you won't find anywhere else, we invite you to call on us the next time you require electrician services.
State Certified Electrical Contractor
License # EC13003789
Residential and Commercial
24 Hour Emergency Service Available