Home Electrical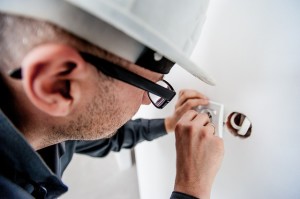 When many people think of home electrical, they think of its necessity in day-to-day life. However, electricity can also enhance the quality of our lives and the value of our homes. Along with keeping the lights on and powering appliances, electricity plays a vital role in entertaining people, keeping them safe, and other purposes. The team of experts at Connective Electric can enhance your business location and your home. Our electrical contractors specialize in renovations and commercial retrofits in homes and businesses.
Many homeowners spend thousands of dollars on landscaping, but fail to show it off at night. With custom landscape lighting, homeowners can grab people's attention. Strategically placed lighting can show off beautiful landscaping and make commercial properties more inviting to potential customers. Landscape lighting also increases the curb appeal of houses and commercial properties. Our electricians can also install security lighting at residential and commercial locations in cities like Pompano Beach, Hollywood, Fort Lauderdale and Pembroke Pines.
Many homeowners and retailers turn to us to install wiring for multimedia purposes such as home media centers, home theaters, and commercial showrooms. Professional electricians, like the pros of Connective Electric, safely increase the electrical capabilities of people's houses and commercial locations. They can install custom interior lighting in stores to show off certain products or areas of the store. They can also install lighted signs that help companies market themselves to passing motorists at night.
For more information on home electrical contractors, call 954.782.7879 for a free, no obligation quotes.