Home Electrical Contractors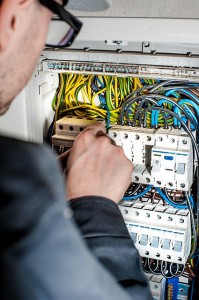 As both a contractor, and a sub-contractor (a contractor hired by another contractor), I have experienced the good, the bad, and the ugly that comes with home electrical contractors. My electrical contracting business has played a pivotal role in the successful delivery of many projects on time and on budget, but I have also watched other projects fall to pieces at the hands of a dishonest contractor. Having seen firsthand the stress, agony, and loss of hard earned money that some very good people have gone through as a result of the latter, I pass along these five simple tips that will protect you, your property, and your wallet from an unscrupulous contractor.
Verify and do a check on their contracting license. In the state of Florida, checking the license of home electrical contractors is as simple as logging in to

www.myfloridalicense.com

and clicking 'verify a license'. Checking the status of the license will tell you a couple things. First, it will tell you that the license is currently active and in good standing. Second, it will tell you if there are any complaints against the license, and if there are take that as a sign to think twice about your prospective contractor.

There are many consumer advocacy groups online that can be used to evaluate your home electrical contractors. Sites such as

www.ripoffreport.com

or

www.complaintsboard.com

are an excellent source to verify whether or not other consumers are reporting negative experiences with your potential contractor.

Check references. Are there any prior customers of theirs you can speak with, or view the work done on their property? Ask your contractor for some photos of their work, as many will keep a portfolio of some work they have accomplished for situations such as these. Does your contractor have a website? A website should be a good source of material and often will include previous project photos, testimonials, and other useful information to help you make a confident decision.

Don't be sold on price alone. We've all heard the saying "If it's too good to be true, it is". This is a phrase that is often overlooked in the world of home electrical contractors. Many consumers want to believe that they have found that needle in a haystack contractor who can do the project for half of what the other 3 guys quoted. Don't let these "too good to be true" prices be your decision driver on selecting a contractor. Be wary when that too good to be true price comes along, ask yourself "why are they so low?", "why aren't they in keeping with the reputable contractors prices?". Not that finding a good deal isn't something you should be looking for, we all want to feel good about the price we pay for services, but don't ignore the red flags on account you think you've found a deal that's just too good to be true.

Don't pay in full at the start of the project. The number one way I have seen good people get into trouble with their home electrical contractors is because they pay in full at the start of the project, and the funds are misappropriated by the general contractor. Prepare a payment schedule with your contractor at the start of your project. Request "lien releases" from all sub-contractors when you make a payment to your contractor and he in turn pays the sub-contractors. A Lien Release from a sub-contractor is a notarized letter indicating that they have received "x" amount of dollars, which should collate to the percentage paid to the general contractor. This waives the sub-contractors right to lien your property for that amount of money. Maintaining proper lien releases is one of the best forms of protection to keep your liability to a minimum and ensure your payments to your contractor are handled properly.
For more information on home electrical contractors, call 954.782.7879 for a free, no obligation quotes.