Electrical Wiring Repair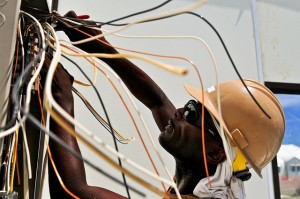 While performing upgrades in and around your home or yard you may accidentally damage electrical wires, and find yourself in need of electrical wiring repair. In the event that you damage live wires, this scenario poses major hazards to yourself, your family, your pets, and your property. You should promptly contact quality professional electricians to minimize the risks that these damaged wires pose. If repairs are performed in a haphazard manner, faulty connections may temporarily solve your problems, but problems could arise down the road from this shoddy work.
The law across the United States says that anyone digging underground must call-in to have the area marked for underground utilities. This includes utilities such as water lines, electrical lines, and cable lines. Failure to get a dig ticket could result in major fines. Even with underground dig tickets, some lines may get missed, leading to mistakes. If you accidentally cut a wire while digging, contact a professional to address the problem. If you cut a wire that knocks out power to your home you will need to call professional electricians to repair the problem. Likewise, if you cut a television wire, you should contact the cable provider in your area.
Serving Customers With Electrical Wiring Repair
Featuring some of the best electricians in South Florida, Connective Electric is an experienced, licensed, and trusted electrical contracting company. Our team specializes in performing emergency repairs around the clock. In addition, our team performs work on commercial remodeling projects, residential remodels, and new construction.
For more information on under cabinet lighting, call 954.782.7879 for a free, no obligation quotes.